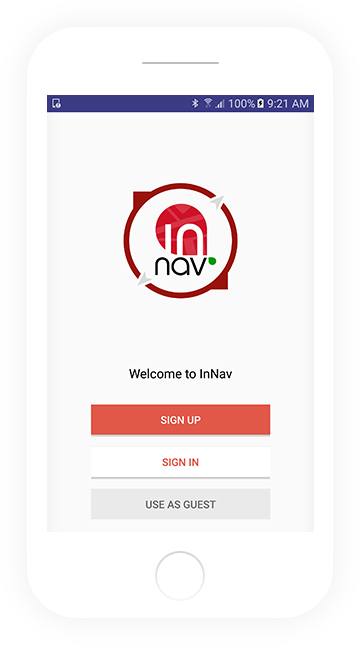 InNav
Our solution is smart indoor positioning and navigation (IPIN) mobile application where users with the help of a smartphone can receive indoor voice guided navigation and location based information alerts to make it easy to find and explore places and items in places like shopping malls, museums or other "big" buildings catering to the needs of visitors. The initiative is run under the UAE based startup Smart Navigation System.
Main features
The platform and the application has unique smart specifications and functionality such as :
Indoor positioning and navigation on mobile devices (Android & IOS) supporting multi-floors with voice guidance and distance to the destination
One mobile application that works for all types of venues anywhere in the world
2D & 3D maps in the mobile devices with smart functionalities
Configurable themes & colors for the mobile application
Search functionality in the mobile app by venue, type, category, facilities, brands and products
Configurable without coding for different types of venues such as shopping malls, museums, exhibitions, airports, universities and hospitals
Venue administration from panel to manage content maps, users and privileges
Modular in design for integration with multiple positioning engines technologies (Radio Frequency based and Geomagnetic)
Flexible setup and options for every venue
Displays the nearest venue with distance
Seamless outdoor to indoor voice guided navigation
Platform is customizable for non-consumer market applications (factories, warehouses,..)
Find friends option (with their permission) and navigation to their location
User privacy management
Specialized functionality for children tracking with a dedicated mobile app
Supports multiple languages
Provides analytics and heatmaps on venue visitors behavior
How can I use it?
Willing venue owners like shopping malls, hospitals, airports, exhibitions and museums contact us and we give them access to InNAv control panel. Hence venue and shop owners get the authorized secure access for entering and maintaining data about shops, products, information and campaigns as well as accessing the analytical data and information about the venue visitor behavior. The venue is added to InNav mobile application as private or public venue.